Perimeter LED Display
Product categories of Perimeter LED Display, we are specialized manufacturers from China, Led Perimeter Display Screens, Perimeter Led Displays suppliers/factory, wholesale high-quality products of Perimeter Led Boards R & D and manufacturing, we have the perfect after-sales service and technical support. Look forward to your cooperation!
P10 Outdoor Perimeter led display screens

Brand: Priva

Packaging: Wooden case/ flight case

Supply Ability: 20000m2/Year

Min. Order: 1 Set/Sets

Certificate: ISO2004

P10 Outdoor Perimeter led display screens Outdoor Stadium Led Display Screen used in football field basketball courts and other sports venues for advertisement It is the perfect combination of modern sports and business model with wonderful game and the cycle play of advertisement information Outdoor Led Banner...


P16 Outdoor stadium led display screen

Brand: Priva

Packaging: Wooden case/ flight case

Supply Ability: 20000m2/Year

Min. Order: 1 Set/Sets

Certificate: ISO2004

Stadium LED display is specially designed LED display products according to the special application requirements of stadium it is mainly used as stadium fence and playing advertisement information It is one of best advertisement format Surrounded by the advertising information which can uninterrupted effective covers...

China Perimeter LED Display Suppliers
Perimeter
LED Display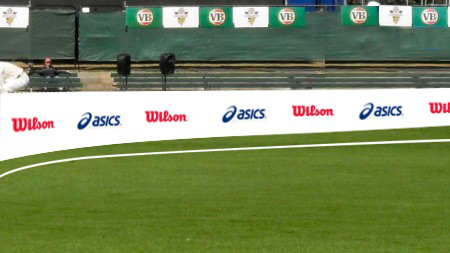 Outdoor Perimeter Led Display screens are basically perimeter advertising boards. They are outdoor LED displays that are used as ground level giant banner displays that are very wide in width and short in height. The perimeter Led screen boards are very commonly used for advertising and are effective in displaying continuous scrolling advertising messages on the LED displays across a sports field & at indoor sports arena. They are very quick and simple to install and they allow the module to adjust to different angles for better results on TV broadcasts. These displays are specifically used by the stadium authorities and sports clubs, sports marketing companies who can benefit from the returns they can pool in through revenue generated by advertisements during the matches. By using a super wide viewing angle, Outdoor Perimeter LED Display increases the amount of spectators, and also multiple advertisements can be showed at once. Also Silicon rubber mask on the LED cabinet and the top protective hat provide player & screen safety.
Priva led Perimeter Led Displays can be developed in different sizes and are fitted with complete control system, power and data distribution, cables and most importantly our advertising management software. They are high refresh screens made up of completely weather-proof material suitable for outdoor applications. Our In-house team of engineers will provide you with technical support, assistance and maintenance.